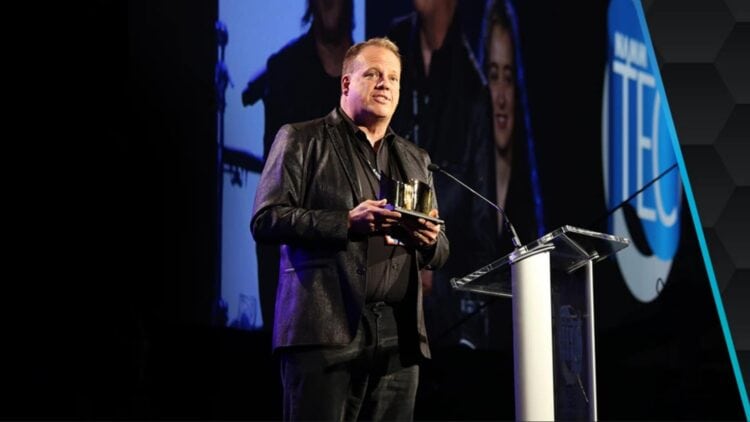 34. TEC Awards auf der NAMM Show
Die Tec Awards werden jährlich während der NAMM Show verliehen. Ausgezeichnet werden Personen, Unternehmen und technische Innovationen, die etwas mit Recording, Live-Auftritten, Film, Fernsehen oder Videospielen zu tun haben.
Alle News lesen: NAMM 2023
Als final nominiert gelten die Produkte und Projekte, die nach Ansicht des Nominierungsgremiums in ihren jeweiligen Bereichen eine überragende Leistung darstellen. Verliehen werden im Einzelnen der Les Paul Innovation Award sowie der Hall of Fame Award. Letzterer zeichnet Tonmeister und -ingenieure aus.
Abgestimmt wurde vom 14. November bis zum 31. Dezember 2018. Die Verleihungszeremonie fand am Samstag, 26.01.2019 in feierlicher Location im Hilton Anaheim Pacific Ballsaal statt. Eingeladen waren, neben den Nominierten, auch Freunde und Kollegen. Neben dem Abendessen fand auch eine Networking-Happy-Hour statt, die jedes Mal die Gelegenheit bietet, wertvolle Kontakte zu knüpfen.
Eindrücke von den TEC Awards
Gewinner und Nominierte des 34. TEC Awards im Überblick
Amplification Hardware – Studio & Sound Reinforcement
Gewinner: Grace Design – m908 Surround Monitor Controller
Crest Audio – ProTour Series amps
Lab Gruppen – PLM 5K44; PreSonus – NSB 16.8
SPL – MC16 Mastering Monitor Controller
Yamaha – MMP1 Studio Monitor Management System
Audio Apps & Hardware/Peripherie für Smartphones/Tablets
Gewinner: Yamaha – StageMix v.7 CL/QL iPad App
Abbey Road – Topline
Apogee Electronics – MiC+
Avid – On-Stage iOS
Electro-Voice – QuickSmart Mobile
Sennheiser – Sennheiser AMBEO Smart Headset
Audio Education Technologie
Gewinner: Produce Like A Pro – Produce Like A Pro
Focal Press – The Audio Expert, 2nd edition
Groove3 | Hal Leonard Books – Alan Parsons' Art & Science of Sound Recording
Hal Leonard Books – Al Schmitt on Vocal and Instrumental Recording Techniques
Hal Leonard Books – Audio Made Easy, Or How to Be a Sound Engineer Without Really Trying, Fifth Edition Mix with the Masters – Mix with the Masters
Computer Audio Hardware
Gewinner: Universal Audio – Universal Audio Arrow
Antelope Audio – Discrete8
Apogee Electronics – Apogee Symphony I/O Mk II 2×6 SE
BURL Audio – B80-BMB4
Focusrite – RedNet X2P
MOTU – 828es
DJ Production Technologie – Hardware/Software
Gewinner: Pioneer DJ – Pioneer DDJ-1000 Controller
Allen & Heath – PLAYDifferently Model One DJ Mixer
Audio-Technica – AT-LP1240-USB XP
Numark – Numark NS6 II
Rane – Rane SEVENTY-TWO
Roland – DJ-505 DJ Controller
Headphone/Earpiece Technologie
Gewinner: Audio-Technica – Audio-Technica ATH-M60x
Apogee – Ambeo Smart Headset
Lectrosonics – Duet Digital Wireless IEM
Sensaphonics – D2 Dual Dynamic custom IEM
Shure Incorporated – KSE 1200
Ultimate Ears – UE Live
Großkonsolen-Technologie
Gewinner: Solid State Logic – SSL Live L100
Allen & Heath – dLive v1.6
DiGiCo – SDS7 Quantum 7
Lawo – mc2-96
Studer – Vista 5 Black Edition
Yamaha – Rivage PM7
Mikrofon Preamplifier
Gewinner: Rupert Neve Designs – RMP-D8
AEA – TRP2 Preamp
Antelope Audio – Edge Strip
Daking – Mic Pre II
PreSonus – NSB 16.8 stage box
Yamaha – Rio3224-D2 | Rio1608-D2
Mikrofone – Recording
Gewinner: Neumann – Neumann U 67
Antelope Audio – Edge
beyerdynamic – FOX USB-C
DPA Microphones – d:vote CORE 4099 Instrument Mic
Josephson – C725 Tube/FET Hybrid
Manley – Manley Reference Silver
Mikrofone – Sound Reinforcement
Gewinner: Sennheiser – HSP Essential
Earthworks – DK7
Ehrlund – EHR-H
Heil Sound – PR 77D
Royer Labs – Royer R-10
sE Electronics – V7 MC1
Musikinstrument Amplification & Effekte
Gewinner: Universal Audio – Universal Audio OX Amp Top Box
BAE – Royaltone
Blackstar Amplification – Unity Bass
BOSS – MS-3 Multi-Effects Switcher
IK Multimedia – IK Multimedia iRig Stomp I/O
Line6 – Line6 Powercab 112 Plus
Musikinstrument – Hardware
Gewinner: Dave Smith Instruments Sequential Prophet X
Korg – Korg Prologue
Kurzweil – Kurzweil SP6
Line 6 – Shuriken Variax SR270
Nord – Nord Electro 6
Roland – SE-02 Analog Synthesizer
Musikinstrument – Software
Gewinner: EastWest Sounds – Hollywood Choirs
Output – Analog Brass & Winds
PPG – Infinite Pro
Spitfire – Hans Zimmer Drum Library
Waves Audio – Bass Slapper
Waves Audio – Piano & Keys Bundle
Production Essentials
Gewinner: PreSonus – FaderPort 16
Argosy Console – HALO.K88E (Sit-to-Stand)
BAE Audio – PDIS Stereo Direct Box
Dangerous Music – CONVERT-AD+
Grace Design – m900 Headphone Amp / DAC / Preamp
Rupert Neve Designs – RNDI-S
Signal Processing Hardware
Gewinner: Eventide – H9000
Bettermaker – Mastering Equalizer
d&b Audiotechnik – Soundscape Technology
KLANG:technologies – KLANG 3D KOS 3
L-Acoustics – L-ISA system
UnderToneAudio – UnFairchild 670M II
Signal Processing Hardware (500 Series Modules)
Gewinner: API – 529 500-series compressor
BAE – 500C
Chandler Limited – TG Opto
elysia – skulpter 500
Heritage Audio – R.A.M. System 500
Trident – A-Range 500 EQ
Signal Processing Software (Dynamics/EQ /Utilities)
Gewinner: iZotope – Ozone 8
Empirical Labs – Arousor Version 2.1
FabFilter – PRO-L 2
iZotope – Neutron 2
Softube – Weiss MM-1 Mastering Maximizer Plug-in
Universal Audio – Empirical Labs EL8 Distressor Plug-In
Signal Processing Software (Effekte)
Gewinner: Soundtoys – Little Plate
Antares – Antares Auto Tune Pro
Eventide – Anthology XI
Universal Audio -KORG SDD-3000 Digital Delay Plug-In
Waves Audio – PRS SuperModels
Zynaptiq – Zynaptiq Wormhole
Kleinformatkonsolen-Technologie
Gewinner: Allen & Heath – SQ Series Mixers
Dan Dugan Audio – Model E-2A Automixer
Heritage Audio – MCM20.4
PreSonus – StudioLive 24 Series III
Solid State Logic – Nucleus2Dark
Zoom – Zoom LiveTrak L-12 Digital Mixer + Recorder
Sound Reinforcement Lautsprecher
Gewinner: JBL – VTX A12W
Clair Brothers – 10Spot
d&b audiotechnik – SL-Series, GSL System
Meyer Sound – VLFC
Powersoft – M-force 301P01
QSC – KS212C Cardioid Subwoofer
Studiomonitore
Gewinner: JBL – 3 Series MkII
ADAM Audio – T Series Studio Monitors
Augspurger Monitors – Treo 812CFM
Genelec – 7380A SAM Subwoofer
Meyer Sound – Bluehorn System
Ocean Way Audio – HR3.5 | A-4100
PMC – result6
Wireless Technologie
Gewinner: Sennheiser – evolution wireless G4
Audio-Technica – 3000 Series (4th Gen)
beyerdynamic – beyerdynamic TG 1000 digital wireless
Lectrosonics – Lectrosonics SMWB
Neutrik – XIRIUM PRO v3.0
Shure – Axient Digital AD Wireless
Workstation Technologie / Recording Devices
Gewinner: Avid – Pro Tools Ultimate
iZotope – Spire Studio
MOTU – Digital Performer 9.5
PreSonus – Studio One 4 Professional
Propellerhead – Reason 10.1
Sound Devices – MixPre-10M Recorder
Film Sound Production
Gewinner: Black Panther, Deadpool 2
A Quiet Place
Avengers: Infinity War
Solo: A Star Wars Story
The Shape of Water
Interactive Entertainment Sound Production
Gewinner: Star Wars Battlefront II
Destiny 2, God of War, Super Mario Odyssey,Uncharted: The Lost Legacy
Record Production/Album
Gewinner: Colors, Beck
America, Thirty Seconds to Mars
Beautiful Trauma, Pink
Boarding House Reach, Jack White
Roll with the Punches, Van Morrison
Record Production/Single oder Track
Gewinner: This Is America, Childish Gambino
Finesse, Bruno Mars
Good Old Days, Macklemore featuring Kesha
Look What You Made Me Do, Taylor Swift
My Only True Friend, Gregg Allman
Remote Production/Radio oder Broadcast – TV
Gewinner: 60th Annual GRAMMY® Awards
2018 Rock & Roll Hall of Fame Induction Ceremony
90th Annual Academy Awards
72nd Annual Tony Awards
Elton John: I'm Still Standing a Grammy Salute, Jesus Christ Superstar Live in Concert
Television Sound Production
Gewinner: Game of Thrones
My Next Guest Needs No Introduction with David Letterman
Stranger Things
The Handmaid's Tale
Westworld
Tour Sound Production
Gewinner: Man of the Woods Tour, Justin Timberlake
Beautiful Trauma World Tour, Pink: Dead & Company Summer Tour 2018, Dead & Company
Ed Sheeran Divide World Tour
The Last of the Street Survivors Farewell Tour, Lynyrd Skynyrd
The Ridiculously Self-Indulgent, Ill-Advised Vanity Tour, "Weird Al" Yankovic
Sind deine Favoriten dabei?
Welche Produkte, Alben, Tour-Produktionen oder sonstige Errungenschaften haben es deiner Ansicht nach verdient, einen Award abzusahnen? Gibt es wiederum Nominierungen, die Du so gar nicht nachvollziehen kannst?